60th Draggins Annual Car Show April 10th & 11th 2020
2020 Car Show Homepage
Notice of Cancellation

In compliance with an order issued by the Saskatchewan Ministry of Health under paragraph 45(2)(c) of the Public Health Act, 1994(SK), prohibiting public gathering of over 250 people in any one room; the Draggins Car Show scheduled for April 10th and 11th 2020 at the World Trade Centre in Saskatoon is cancelled.

We extend a heartfelt and sincere thank you to all of our sponsors, vendors, entrants and volunteers for all their work in planning and participating in the planning of this show. We look forward to our next car show April 2nd and 3rd 2021.

Celebrating our 60th Anniversary!
Draggins Rod & Custom Car Club members are excited to open the doors at the World Trade Centre at Prairieland Park for their annual car show. Easter weekend, Friday April 10th and Saturday April 11th 2020. Show hours open to the public are 10 a.m. to closing time of 9 p.m. on both days.
Admission: All profits to charity

Adults $15.00
Seniors $10.00
Youth (6-15) $5.00
We are proud to announce a special guest and exciting cars to bring some new entertainment again this year.
Our special guest will be Gene Winfield, known as the "King of Customs" in the car world. He is an automotive customizer and fabricator and has built many famous movie cars such as Blade Runner and Robocop. He has toured the world appearing at major car shows and is looking forward to coming to Saskatoon.
As we get closer to the show we will determine the times that Gene will be doing signings and he will be touring and checking out the custom cars from our area that are displayed at the show.
When the vehicle line-up is completed for the show we will add more details as to the participants.
One of our feature highlights already committed is a beautiful 1970 Plymouth Roadrunner convertible from Saskatchewan. Depending on the source, there were either 3 or 4 Hemi Roadrunner convertibles made in 1970. The car was meticulously restored and received awards at the Chicago Muscle Car Show and Nationals and a 997 points (out of 1000) Concours rating.
All the fun you expect to see at the show is returning, like the Battle of the Technicians, free Hot Wheels for the first 1000 children both days, the Cool Car Corrral in the parking lot, great vendors from the western provinces and community and safety information booths. The children can bring their fastest Hot Wheesl car from home or use their new one from the show to race them on our Hot Wheels Track. Visit the SaskAbilities booth to purchase a ticket to win their "man-cave" coffee table or buy your car show shirt or mug.
The Saskatoon Antique Auto Club is holding their 2nd Annual Swap Meet on Saturday April 11th in the Hall B of Prairieland Park from 9 a.m. to 5 p.m. Admission is $5.00 and entry is through the north door of Hall B.
---
Host Hotels
Special Room rates are available



Remember to tell the Desk Clerk that you are attending the Draggins Car Show!
-Our Host hotels provide secure parking.
-Please note that vehicles are left at owners risk.
-The Draggins do not accept responsibility for any theft or damage.





Standard room - $129.00 /nt

Standard room is either 2 beds or 1 King

www.SaskatoonInn.com
Toll Free: 1-800-667-8789
Fax: 306-244-2779

2002 Airport Drive
Saskatoon, SK
S7L-6M4




Standard room - $92 /nt
Premium Room - $92 /nt
Suite - $112 /nt

www.HeritageInn.net
Toll Free: 1-888-888-4374
Tel: 306-665-8121
Fax: 306-665-0064

102 Cardinal Crescent
Saskatoon, SK
S7L 6H6
---
Car Show Contact Numbers
Wayne Pegg 306-384-7223
Joel Prefontaine 306-260-7832
Matt Brown 306-382-9123
Draggins Clubhouse 306-931-0181
info@draggins.com or Contact Us
Fax 306-931-0146


---
Trophies

Download PDF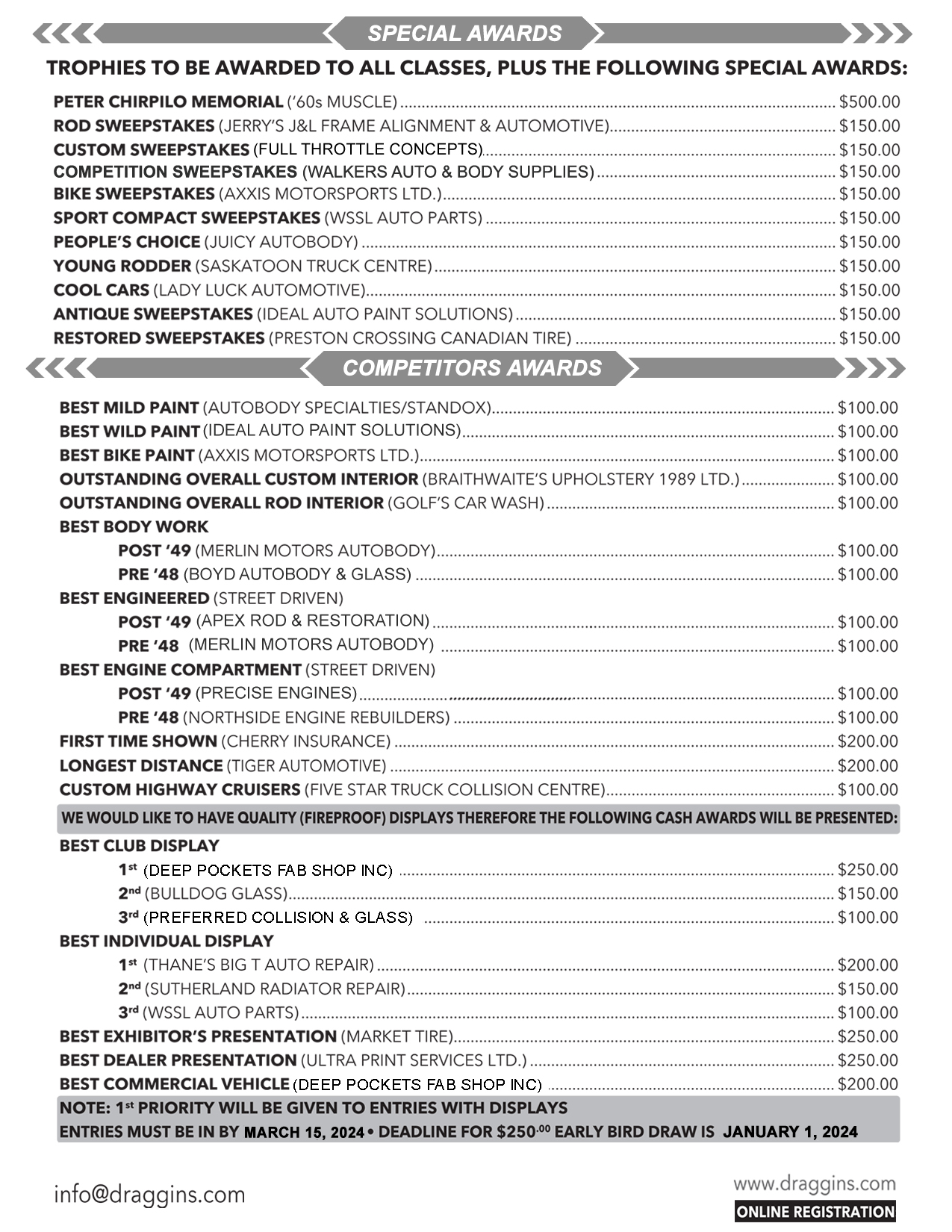 ---
Rules

Download PDF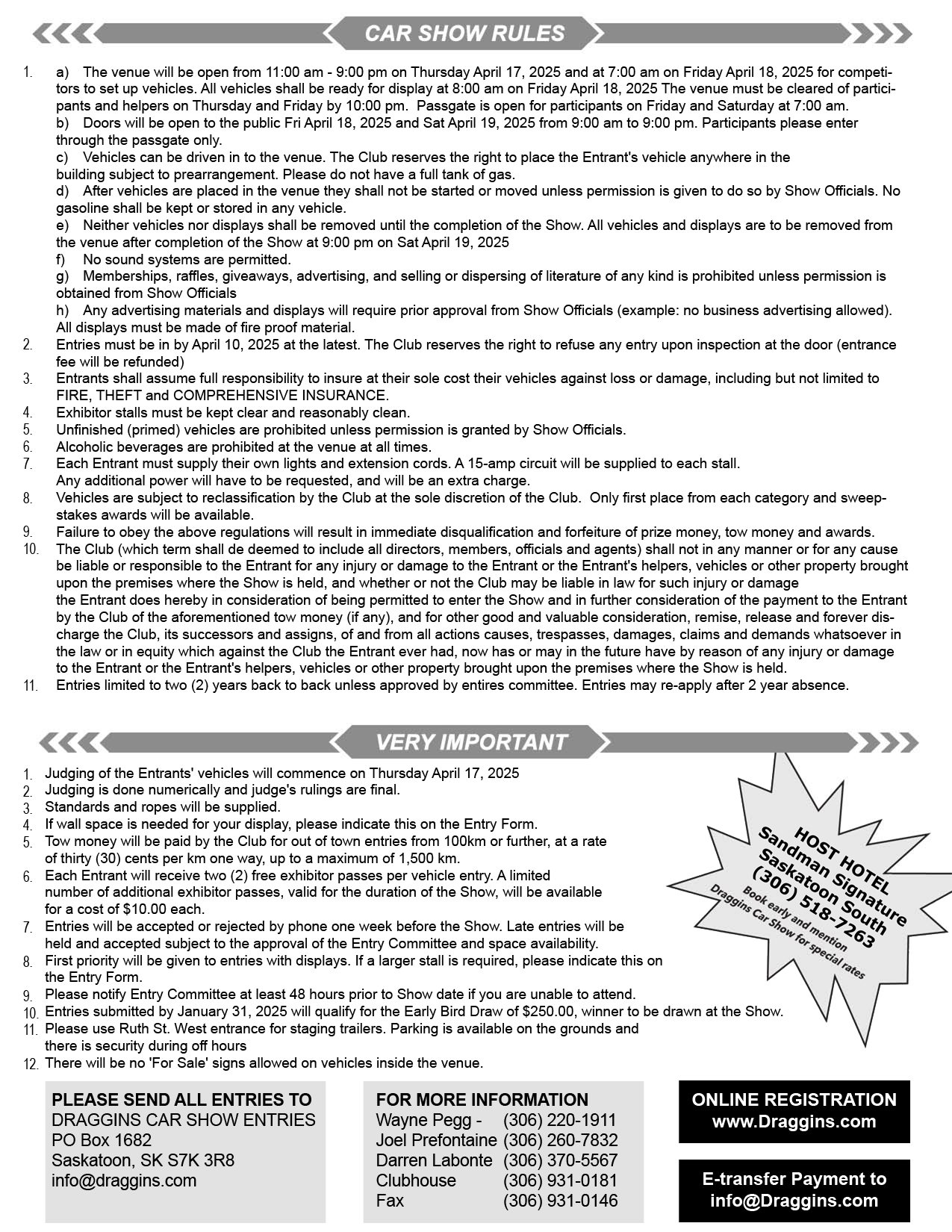 ---
Lotteries Information
The Draggins Rod and Custom Car Club are often approached by organizations wishing to sell tickets for their lotteries at the Draggins Annual Easter Week-end Car Show. The Draggins would like to offer the following criteria for selling lottery tickets at our show
When the Draggins Car Club has a Project Car Lottery or any other lottery there will be no other lotteries allowed
All lotteries must be licenced by the Province of Saskatchewan.
The Abilities Council may sell licenced lottery tickets at the Draggins Car Show any and every year. Besides the Abilities Council the Draggins at their discretion may allow up to 3 additional lotteries to participate in our show.
All lotteries must be for the promotion of the automotive hobby by a recognized automotive club or organization and proceeds must go to the promotion of the hobby or a charity sponsored by that organization/club. There will a limit of one lottery per organization per year.
Lotteries must promote the automotive hobby and reflect positively on the Draggins Car Show and our organization.
All requests/applications for the selling of lottery tickets at the Draggins Car Show must be received in writing before January 31st in the year of the show.
The Draggins reserve the right to evaluate all applications, choose lottery participants based on suitability and criteria. The Draggins may choose limit the number of organizations selling tickets at the show. Applications approval will be the sole choice of the Draggins by merit and not on a first come basis. As a part of the choice process the Draggins may choose to limit repeat lotteries.
---
Parking Information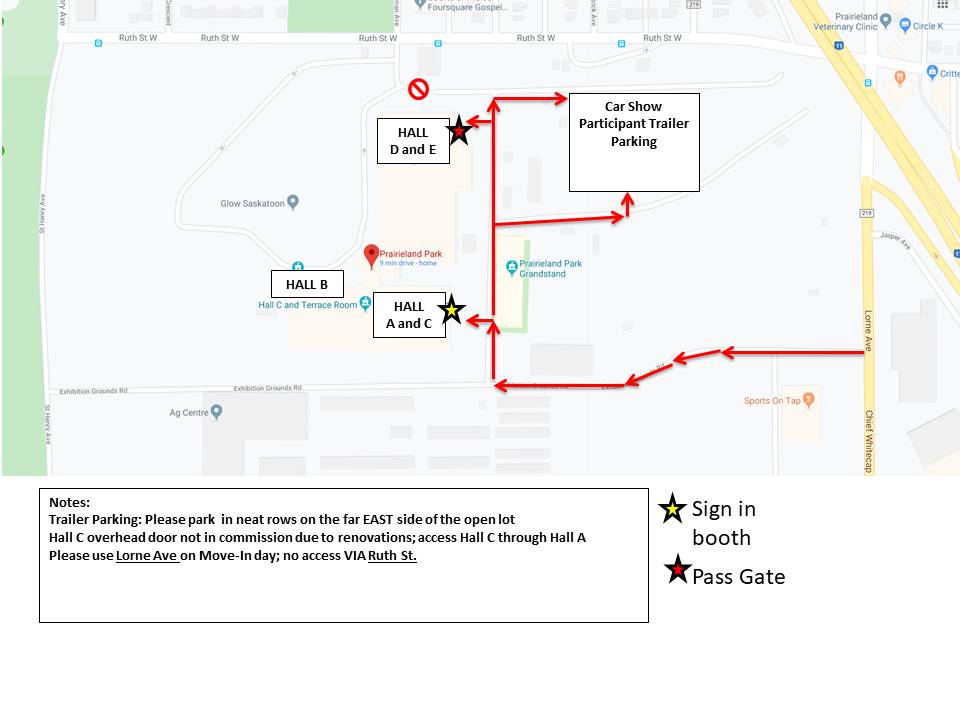 ---