Alumni
Announcements, News, & Pictures
For & From our Draggins Retired Members
---
Alumni News April 2012
Another successful Draggins Car Show at Easter (the 52nd) has come and gone.

There were a good number of past members helping out.If you are ever interested in helping out at the show, let the Draggins know, it's always a great weekend and an opportunity to see lots of people you may not have seen for awhile.

On the Saturday evening of the car show, all the past members who had been helping at the show, got together at the clubhouse for an impromptu evening of pizza and refreshments. Lots of stories, some good food and fellowship. Doesn't get any better than this!

You all have your up to date past members list that we sent out last July, don't be afraid to reach out and phone or email someone that you haven't seen for awhile and join us at next years car show.



Let us know of any changes to the list and also send us some up to date info on yourselves so that we can post it here on the Draggins Alumni web page.

                                                                                           -Gerry Ackerman
---
Presentation to Doug Felthum and Ray Aikman on April 16 2018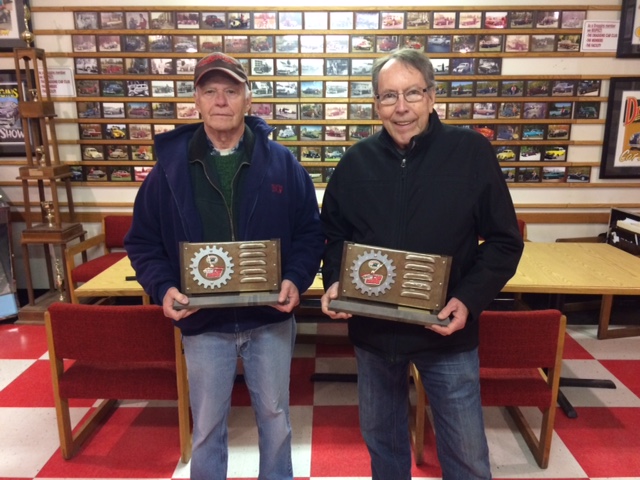 Two alumni members of the Draggins Rod & Custom Car Club, Doug (one of the original 7) and Ray, were each presented with a special award to recognize their ongoing involvement with our club. After many years of active service as members of the club, they continued to participate in club sponsored activities and events and volunteered at our club's annual show. For their unending support and ongoing commitment to the club, its vision and work, we are very grateful.
 60th Anniversary of the Draggins Rod & Custom Car Club 1957 - 2017


The week-end June 3 and 4 2017 was the reunion of the club to celebrate out 60th Anniversary. Great to see and visit with so many past members that were able to attend, both from near and far. Saturday afternoon and evening we had visiting and a  barbeque, then Sunday many tok their cars out to Pike Lake for the Coachmen Car Club Fun Run for the day and more visiting. Thanks to all who attended, looking forward to our next reunion.
Presentation to Jack Alexander at Draggins 2012 Car Show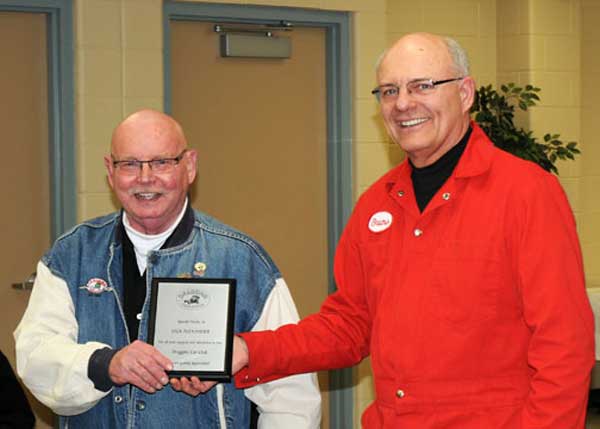 Our car club would like to recognize the continuing support of one of the alumnus of the Draggins Car Club.. While he may have left an active role in the club many year's ago, he has continued to participate for many years as a judge at our annual car show. He has been an inspiration to other members through his fellowship and example. I'm pleased to have the opportunity, on behalf of the Draggins Car Club, to present Jack Alexander this award reflecting our appreciation of his many years of dedication to our club and our car show.
-Draggins President Bruno Konecsni April 5 2012